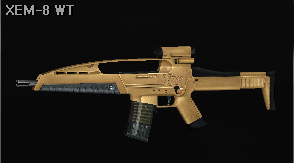 Description
Edit
This is a rifle developed based on the Z-36's light and modular system. Durability issues had been criticized, but have been solved by adopting light weight, high stress polymer material manufactured by the General Defense company. Manufacturing of this weapon is expected to continue, as the durability improvement has increased it's projected sales and business reviews predict it will be one of the main guns of the 21st century. This model is mainly used by members of G.D. company for repelling Wolves.
Arguably the best assault rifle(s) available for purchase with gold, the XEM-8 WT and PT are both accurate and powerful.
Players from both ends of the Wolf Team skill spectrum use this gun well. There are very few flaws with it.
The XEM is deadly in almost any situation and requires no real upgrades, though the laser sight makes the WT even more accurate.
The three burst mode can be toggled or used with the built in scope (no upgrade required).
Burst mode is suggested for distance targets and full auto should be reserved for close-mid range enemies.
XEM-8 C (found in Full Power 14 Package and Special 7 Package)
---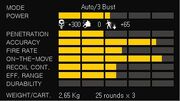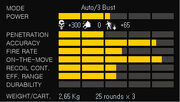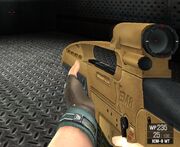 Community content is available under
CC-BY-SA
unless otherwise noted.