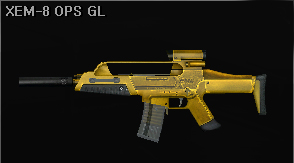 Description
Edit
This is a miniature type assault rifle variation of the XEM-8 and has great strength in close quarters combat. Even though the OPS is not adopted on the front lines, it is used by subsidiary troops in special operations. Pride members prefer the OPS. This version is a gold plated variant, featuring an improved fire rate.
Use similar tactics to the XEM-8 WT/PT.
This weapon doesn't feature a burst mode like it's regular counterparts, so adopt your strategy to suit close range combat.
This weapon is very well balanced in nearly every aspect and can be adopted to suit nearly any combat situation.
This gun will absolutely slaughter Wolves if you crouch or walk while using it. Always aim for the head and you can't go wrong.
This version is slightly different from the original OPS in that it features a higher fire rate and increased headshot damage at the cost of lowered overall damage.
Adam Haklı Beyler Dağılın!
---