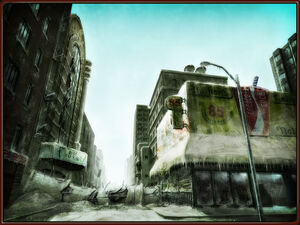 Description
Edit
Multi-national Weapons Company G.D. which is based in the U.S, introduced a new bomb called the F-Bomb. When the F-Bomb explodes, it will absorb heart energy from buildings and creatures, thus destroying them by the extreme temperature difference. One of the F-Bombs exploded, and three of them went missing while being shipped to New York. Battle is brewing between the Prides to find and secure the three missing F-Bombs.
This map is similar to City Arena. There are frozen buildings and iced over vehicles in the streets. This is a fairly large map. There is a central bridge connecting the two main building clusters together. This bridge is commonly fought over. The spawn points are far from one another.
Secure the bridge area first (command post C). This area becomes important near the end of every game.
Utilize Psycho wolves in this map if you're playing a wolf mode. There are many wide open streets with which to nail your enemies from afar. Close quarter wolves are preferred though.
If playing Conquest, turrets are incredibly effective here. A well placed turret can make all the difference. Setting up a turret in a corner facing an open area is preferred. There aren't too many places a wolf can hide in the main street. Beware of Ghost 2 wolves though. They can sneak up on you while wall running.
Ghost wolves are often utilized in the bridge area, so listen for those heartbeats! Throwing a grenade in that area to check is a good idea.
Command post D is often a favorite camping spot for Ghosts.
---