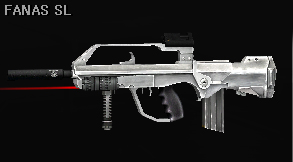 Description
Edit
The USA battle plan changed, and France needed a gun to adapt to brand new combat engagements such as with Wolves. The FANAS FFW which met the specifications for Wolf combat, has been upgraded according to the new plan and this weapon temporarily named as SILVER version will be reselected as a standardized weapon.
This weapon is usable as a basic weapon, which means it can be equipped in the first weapon loadout.
This gun performs much better than the regular FANAS. It has various improvements, including a scope and laser attachment.
Walk (default key is Ctrl) often with this gun, it's much more accurate if you do.
Aim for the head, this gun can perform suprisingly easy headshots on both humans and wolves.
When scoped out, always burst, never hold down the trigger. Due to the fast fire rate, you won't be very accurate if you keep it at full auto.
---