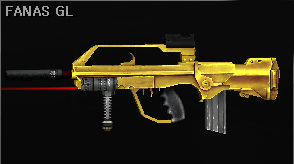 Description
Edit
The USA battle plan changed, and France needed a gun to adapt to brand new combat engagements such as with Wolves. The FANAS FFW which met the specifications for Wolf combat, has been upgraded according to the new plan and this weapon temporarily named as GOLD version will be reselected as a standardized weapon.

This weapon is usable as a basic weapon, which means it can be equipped in the first weapon loadout.
Use the same tactics as you would with the FANAS SL; this is a slightly different gun with a higher fire rate, but overall it's the same.
This gun, as well as the rest of the bull-pup family, tends to jump when fired. The FANAS in particular has a higher fire rate than most guns and will reflect this fact with the crosshair moving rapidly upward in sustained fire.
---