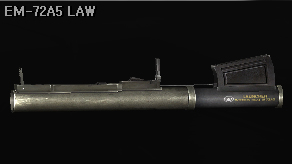 Description
It is an anti-tank missile improved in many parts by adopting a brand new launcher. As intensified soldiers like Pride appear, A4 and A5 editions specialized for man-to-man battles also appeared. There are no big differences in it's simple usage and structure but endurance is fortified so that it is no longer under constraint as a one-time use weapon.

This weapon is considered a heavy weapon and will not be available unless the room master has approved of it. This weapon is available in the gold shop and in the Full Power 14 Package.
Tips
Fire where you expect them to be if they kept moving.
Fire at the ground near the target. Do not try to hit the enemy directly.
Travel with teammates. A lone human in the front lines is not a good idea. If you're the last one ahead, retreat back into friendly territory and wait for your teammates.
---