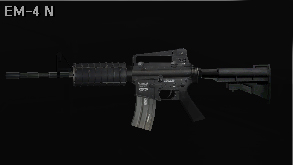 Description
This is an upgraded version of the EM-16A2. This version makes up for the uncomfortableness of the EM-16. Based on a modulized interface system, it provides outstanding portability and stability with various options. The ST version is adopted by GD security team but it's not optimized for VS wolf battle. The N version is similar to the ST version, and has a silencer upgrade. The PT version has more benefits for short-distance combat with upgraded cyclic rate but has a disadvantage of low accuracy.
Tips
If you can afford it, buy these weapons for your primary. An upgraded primary weapon means easier kills for you.
Use the same tactics as you would use with the EM-16A2.
Variants
EM-4 WT (found in Special 7 Package)
EM-4 C (found in Camouflage Set )
---