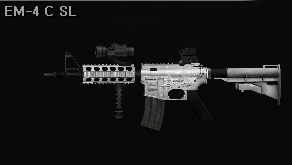 Description
The EM-4 C SL comes with multiple enhancements, including a camo pattern for better concealment, higher damage potential, and increased fire rate over the original model. This version is silver plated.
Tips
Use the same tactics as you would with the EM-4 ST/N/PT
As the description says, the fire rate is slightly higher on this version than on the original EM-4 C.
Variants
EM-4 C (found in Camouflage Set)
---