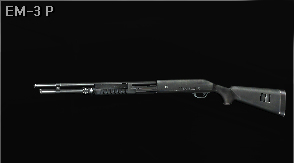 Description
This weapon was used by some anti terrorism troops, but was shutdown early by brand new shotguns. Nevertheless, some executive organizations used customized models. The EM-3 P shotgun is available in both a semi-automatic version and pump-action version, but the American Police dept. customized this model only for non-automatic pump-action shots to prevent casualties.
Tips
Get the scope upgrade. It helps when shooting long range.
It's great for fighting wolves, especially guardians.
Each shot is reloaded on its own, so reload whenever you can.
This is an excellent weapon for close combat areas like Paien Lab.
Variants
EM-3 CS (found in Mania 16 Package)
---