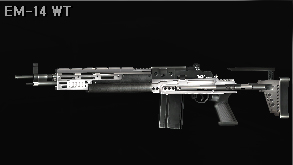 Description
Though the EM-14 was retired after the Vietnam War, it is still in use by US Special Forces. During the Middle Eastern war, the EM-14 got it's reputation based on the fulfillment of a need for a semiautomatic rifle with wonderful power, long range, and accuracy. The WT type was modified for both rushing and sniping tactics.
Tips
This is a fairly versatile weapon; it can function as an assault rifle for direct fire support or as a sniper rifle when the scope upgrade is purchased.
This gun only fires semi auto when a scope is equipped and used.
This gun is often overlooked and not used very often; some see it as being awkward to use and too heavy to lug around for conventional use.
It performs well as a Wolf killer, but make sure to aim for the head.
This is by no means a panic firing weapon. You'll lose accuracy quickly if you fire fast.
Variants
EM-14 PT (found in Mania 16 Package)
---