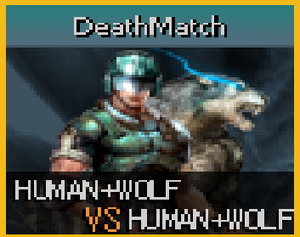 Introduction
Edit
Deathmatch is a game mode for WolfTeam, which puts together two teams: Red team and Blue team.
Sub modes
Edit
Deathmatch features one sub mode:
Classic - This sub mode disables the ability to transform into a wolf, and replaces it with the ability to use a knife.
In addition to the standard default mode for classic, there are also multiple submodes. These are:
Knife Mode - In knife mode, you are only allowed to use a knife, with no other weapons. The same applies to the other team also.
Pistol Mode - In pistol mode, you are allowed to use pistols, knives, and grenades.
Snipe Mode - In snipe mode, you have sniping rifles, pistols, knives, and grenades.
Objective
Edit
The objective for Red team is to eliminate all Blue team members. The objective for Blue team is to eliminate all Red team members.
Winning Conditions
Edit
The winning conditions for Red team are the following:
Red team has more points than Blue team at the end of the round.
Red team has reached the score limit.
The winning conditions for Blue team are the following:
Blue team has more points than Red team at the end of the round.
Blue team has reached the score limit
Taksim
Petra
Underworld